You can make ParseHub run on a schedule and get data consistently. All you have to do is set a schedule for your project. ParseHub will run on that schedule and will provide you with a new CSV or JSON file to download, or will update your mobile/web app via the API.
1) After you are done editing your project, click on "Get Data" in the blue menu dropdown while in the project editor.
Or click on the blue "Get Data" button from the projects list. 
2) Click "Schedule"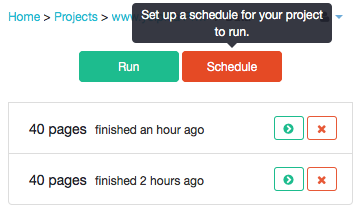 3) Next to the "Schedule" heading, select how often you want ParseHub to run "minute, hour, day, week, month, year". Customize the time and date according to your selection on the dropdown or text box that appears.
4) You can include information within the project about the date and time that it runs by following the instructions to extract the current date.
5) Click "Save and Schedule"
That's it! ParseHub will run on a schedule for your specific project.
Please note that the scheduling feature is only available on our standard, professional or custom plans. This is a paid feature.